About Us
About Us
Who we are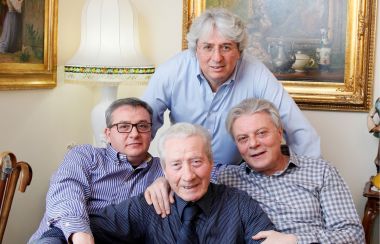 The Vitillo Group was established in 1991.
Thanks to the Vitillo families' enterprise and passion, Vitillo is now a leader in the hydraulic market. Our ability to accommodate our customers' unique requests enables Vitillo to truly offer a complete solution to each of our customers. Solutions include, production and distribution of fittings, adapters, rigid or flexible hose for high and medium pressure fluids.
Present worldwide, Vitillo's strongpoint is the depth and completeness of its product range.
Mission
We feel better under pressure
It's not only a wordplay, nor a simple slogan. It is our company philosophy.

We have the experience and necessary skills to face the challenges of globalization and we are deeply convinced that when faced with difficulty the best in each of us emerges.

As our products, we also feel comfortable in every conditions. Our goal is to be a reliable partner to our customers offering continuous and constant support. Ultimately, our efforts result in our customer's success and to us that is the best gratification.
Where we are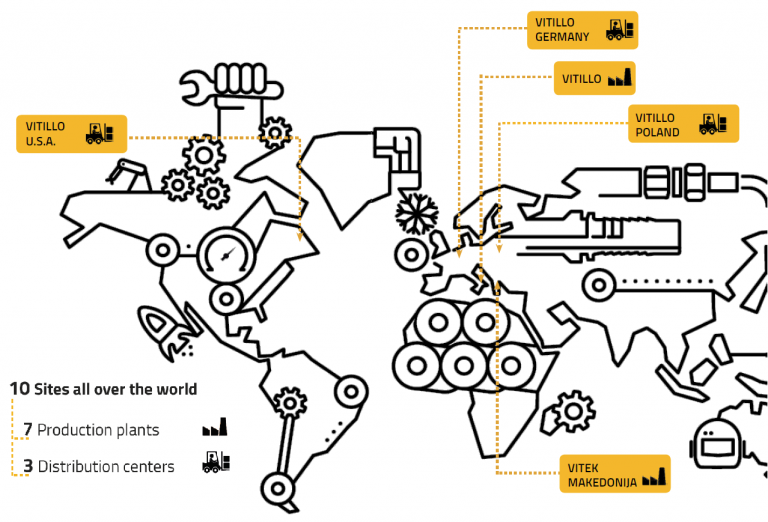 Vitillo's products are supplied in four continents and in more than 50 countries in the world, both directly through our logistic and distribution centers and through our business partners.

Thanks to our direct presence in the most important strategic areas we can guarantee the best market coverage and manage peaks demand all over the world.
Our history
1991. Vitillo was established

2001. Opening of the second fittings factory

2003. The production of braided hoses started

2005. The production range is enlarged with the production of fittings for rigid tube and spiral hoses

2006. Centro Mescole Sud is acquired

2008. Two new factories in Italy and Macedonia are opened

2015. The group consolidates its international presence with the establishment of the distribution centers Vitillo U.S.A., Vitillo Germany and Vitillo Poland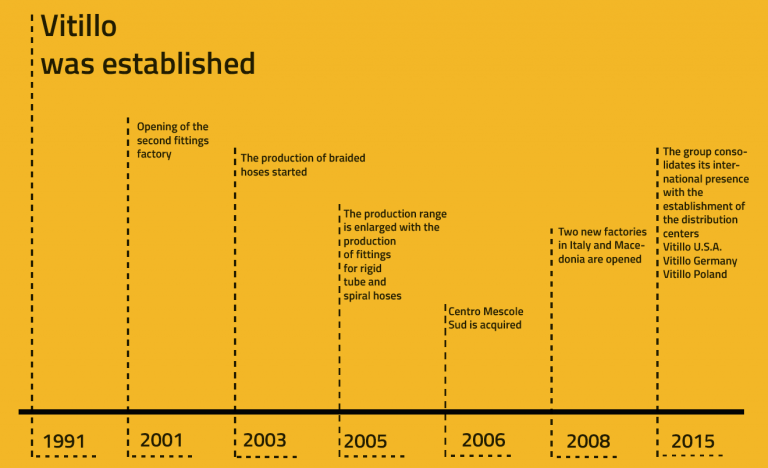 Company profile
| | |
| --- | --- |
| Company profile |   |
Business brochures
| | | |
| --- | --- | --- |
| Vitillo - ITA | Vitillo - ENG | Vitillo - DEU |